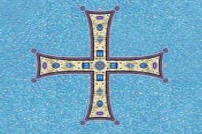 Welcome to the Religious Education Ministry of the Greek Orthodox Metropolis of San Francisco. This is where our Metropolis Church School teachers can share their lesson plans and ideas, and look for inspiration from other teachers.
It is also a place where Orthodox teens and adults can find online educational resources, such as regular live webinars, an online Book Study Club, or downloadable educational podcasts.
Most Religious Educators in the San Francisco Metropolis are using the curriculum from the Greek Orthodox Archdiocese Department of Religious Education. Many teachers have developed original lessons ideas, discussion questions, crafts, games and other learning activities to along with specific textbook lessons. If you are a teacher in the San Francisco Greek Orthodox Metropolis, we would love to post lessons that have worked well in your classroom. Photos are always desirable… or just text is fine too! Send your contribution to: religioused@sanfran.goarch.org
Thank you in advance!
Welcome to the Religious Educator's Forum