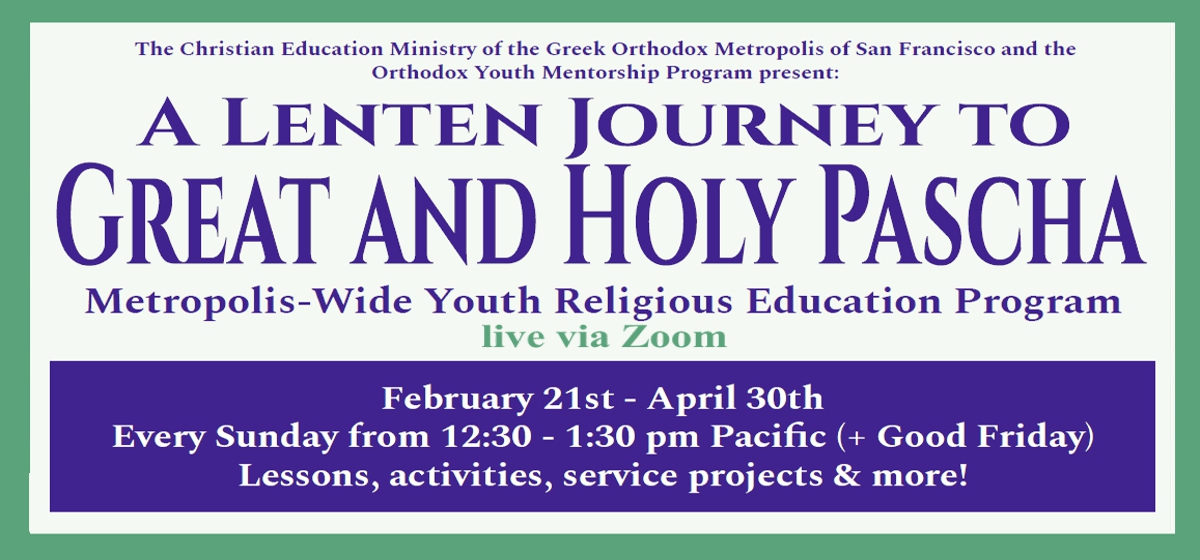 "A Lenten Journey to Great and Holy Pascha" is an 11-week virtual youth Religious Education program created by the Orthodox Youth Mentorship Program of Saint Demetrios Greek Orthodox Church, Camarillo (under the direction of Father Gary Kyriacou) and sponsored by the Christian Education Ministry of the Greek Orthodox Metropolis of San Francisco. 
All students in the San Francisco metropolis, grades Pre-Kindergarten through 8th grade, may sign up to participate.  This program will cover key themes of the liturgical cycle beginning with the Triodion, continuing into Great Lent, through Holy Week and concluding with Holy Pascha.  A team of volunteer teachers will engage students with lessons, activities, and service projects. 
This program will take place live via Zoom.  High school and college students will participate as mentors and activity leaders. 
The program dates are February 21st through Friday, April 30th.  Virtual classes will meet each Sunday at 12:30 for approximately one hour (slightly less for younger students). The final meeting will take place on Great and Holy Friday (April 30th).   
There is no cost to attend, but registration is required.  The registration deadline is Friday, February 5.
Please contact Program Coordinator Maria Tangalos with any questions: mariatangalos@gmail.com
Student Participant Form & Information